Five, Six, Seven, Nate!
---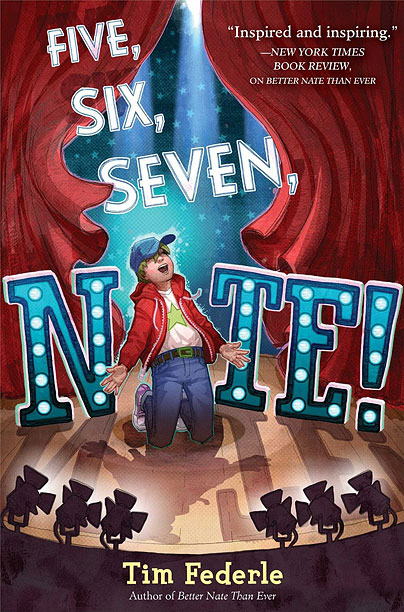 In Better Nate Than Ever (Simon & Schuster, 2013), aspiring performer and middle schooler Nate had dreams of making it on Broadway. Now he's been cast as the understudy to the understudy of the role of E.T. in the Broadway show of E.T.: The Musical. Nate is also a member of the show's chorus. But while he can sing, he can't dance, which singles him out from most of the other kids in the cast, many of whom are tender-aged veterans of the stage. Nate's just a talented kid from Pennsylvania, totally unpretentious, and now worried that he might not have what it takes. Nate offers a great, grounded, often funny perspective on show business as he tries to navigate the highs and lows of theater life, from the disastrous decisions of the first-time director who came from the world of video games, to the wonderful mentoring he receives from veteran actor Asela ("my first midget"). Meanwhile, although lead actor Jordan Sinclair is from Nate's hometown, he seems stuck up and distant, but like so much else in the world of theater, it proves to be an illusion. Tim Federle's blithe, breezy novel is a pleasure from opening curtain to closing credits in a story that also touches on Nate's emerging awareness of his sexual identity and that includes a sweet first kiss with that not-so-stuck-up-after-all hometown boy. © Cooperative Children's Book Center
CCBC Age Recommendation: Ages 8-11
Age Range: Grades 3-5 (Ages 8-10) Grades 6-8 (Ages 11-13)
Format: Novel
Subjects: Acting and Actors Friendship Gays Humor LGBTQ+ Persons
Diversity subject: LGBTQ Character/Topic
Publisher: Simon & Schuster
Publish Year: 2014
Pages: 293
ISBN: 9781442446939
CCBC Location: Fiction, Federle
Can't find what you're looking for? Our
Recommended Book Search
includes subject access to CCBC-recommended titles based on subject headings created by our staff.