To print a CCBC booklist, click on a list below and then use your browser's "Print" command. You can also select books from one or more booklists to create a custom list, which can also include books from the CCBC-Recommended Book Search.
The Hive Detectives: Chronicle of a Honey Bee Catastrophe (Scientists in the Field)
---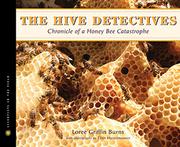 Author Loree Griffin Burns begins this intriguing "Scientists in the Field" volume by taking readers into the world of a beekeeper tending her hives. She then profiles a bee wrangler, who transports bees across the country to pollinate crops, before delving into the devastating effects of Colony Collapse Disorder (CCD). Scientists aren't yet sure what has been causing bee colonies to die off in alarming numbers in recent years, but the potential impact extends from the bees themselves to our food supply. Burns looks at the work of four different scientists studying CCD from various research angles. Each one turned a fascination with bees into a career, and their enthusiastic appreciation for bees shines in this narrative documenting a scientific mystery for which answers are still being sought. Ample, clearly labeled color photographs, along with wonderful design elements, are an integral part of the book's appeal. ©2010 Cooperative Children's Book Center
Illustrated by Ellen Harasimowicz
CCBC Age Recommendation: Age 10 and older
Age Range: Grades 3-5 (Ages 8-10) Grades 6-8 (Ages 11-13) Grades 9-12 (Age 14 and older)
Format: Substantial Narrative Non-Fiction
Subjects: Environmental Challenges Insects (Informational)

Publishers: Houghton Mifflin Harcourt, Houghton Mifflin
Publish Year: 2010
Pages: 66
ISBN: 9780547152318
CCBC Location: Non-Fiction, 638 Burns
Can't find what you're looking for? Our Recommended Book Search includes subject access to CCBC-recommended titles based on subject headings created by our staff.