To print a CCBC booklist, click on a list below and then use your browser's "Print" command. You can also select books from one or more booklists to create a custom list, which can also include books from the CCBC-Recommended Book Search.
Big Red Lollipop
---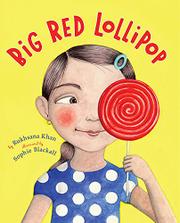 Rubina's excitement when she's invited to a birthday party quickly becomes mortification when her mother insists she ask to bring her younger sister along. Her immigrant family is Muslim and doesn't celebrate birthdays. No one understands that it will be strange if Sana comes. "At the party, I'm the only one who brought her little sister. Sana has to win all the games, and when she falls down during musical chairs, she cries like a baby." To make things worse, Rubina gets into trouble for being so angry when Sana eats the big red lollipop from her favor bag. The dissonance --between siblings, between cultural traditions, and between a child's seemingly righteous anger and an adult's response to it--is palpable in this picture book, but so, too, is the relief that eventually comes. Despite not receiving another birthday party invitation herself, Rubina speaks up on Sana's behalf when Sana receives a party invitation and their mother expects her to take their youngest sister, Maryam. "So Sana gets to go by herself." Pakistan-Canadian author Rukhsana Khan's emotionally vivid story inviting thought and discussion features engaging illustrations by Sophie Blackall. Winner, 2011 Charlotte Zolotow Award ©2010 Cooperative Children's Book Center
Illustrated by Sophie Blackall
CCBC Age Recommendation: Ages 5-9
Age Range: PreK-Early Elementary (Ages 4-7) Grades 3-5 (Ages 8-10)
Format: Picture book
Subjects: Celebrations, Holidays, and Observances Families Immigration and Immigrants Muslim People Pakistanis and Pakistani Americans Siblings
Diversity subject: Asian Muslim
Publisher: Viking
Publish Year: 2010
Pages: 32
ISBN: 9780670062874
CCBC Location: Picture Book, Khan
Can't find what you're looking for? Our Recommended Book Search includes subject access to CCBC-recommended titles based on subject headings created by our staff.