Ida M. Tarbell: The Woman Who Challenged Big Business — and Won!
---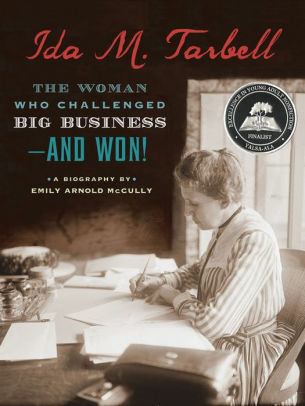 Ida M. Tarbell was one of the first investigative journalists. Her work as a reporter for McClure's Magazine and her interest in taking on the unsavory business practices of John D. Rockefeller and Standard Oil changed journalism and business practices both. This fiercely intelligent woman who was working in a field largely dominated by men didn't consider being female a barrier, and perhaps that is why she did not embrace or support, as logic seems to dictate she would, the suffrage movement and its fight for women's right to vote. For Tarbell, there was no contradiction although it's a puzzle that author Emily Arnold McCully openly considers, and readers will, too. As McCully states in her author's note, "Ida can still be admired, but she also has to be explained. That's what I set out to do in this book." The lengthy biography will have limits to its appeal but offers insight into both Tarbell herself, who was working and writing in the later 19th and first part of the 20th century, and the times in which we live today. ©2014 Cooperative Children's Book Center
CCBC Age Recommendation: Age 14 and older
Age Range: Grades 9-12 (Age 14 and older)
Formats: Biography, Autobiography and Memoir Substantial Narrative Non-Fiction
Subjects: 19th Century 20th Century Biography Girls and Women History (Nonfiction) Journalism and Media Sexism U.S. History Voting Rights/Elections Writers and Writing

Publisher: Clarion
Publish Year: 2014
Pages: 279
ISBN: 9780547290928

CCBC Location: Non-Fiction, 920 Tarbell
Ida M. Tarbell: The Woman Who Challenged Big Business — and Won!