What If?
---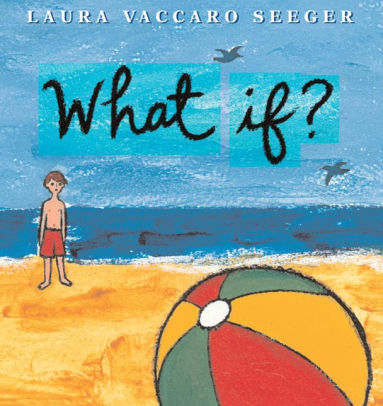 The social dynamic of inclusion and exclusion is the serious theme of a playful picture book told in a series of visual vignettes strung together with a handful of essential words. A boy kicks a beach ball into the water. "What if . . . ?" two seals begin playing with the ball and toss it back up onto beach. "And what if . . . ?" a third seal is on the beach. "Then what if . . . ?" one of the seals in the water heads to the sand and starts tossing the ball with the third seal. "But then . . . " there is one sad-faced seal left—and left out—in the water. "OR . . ." marks a transition for the scenario to begin all over again, but this time the seal up on the sand is left out when the second seal takes the ball back into the water. "OR . . . " the action plays out again, but this time it concludes with all three seals playing together. Laura Vaccaro Seeger's bright, bold, illustrations are rich with the colors of sea and sand and brim with both feeling and possibility in this inviting and illuminating story. ©2010 Cooperative Children's Book Center
Illustrated by Laura Vaccaro Seeger
CCBC Age Recommendation: Ages 3-7
Age Range: Babies/Toddlers (birth – 3) PreK-Early Elementary (Ages 4-7)
Format: Picture book
Subjects: Animals (Fiction) Feelings/Emotions Kindness

Publishers: Neal Porter Books, Roaring Brook
Publish Year: 2010
Pages: 32
ISBN: 9781596433984
CCBC Location: Picture Book, Seeger
Can't find what you're looking for? Our
Recommended Book Search
includes subject access to CCBC-recommended titles based on subject headings created by our staff.