What Lane?
---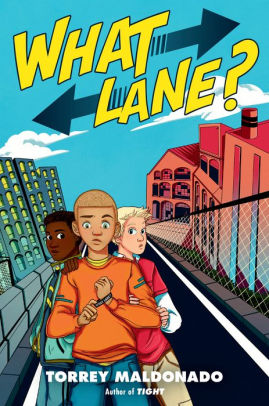 Sixth grader Stephen and his best friend Dan share a passion for superheroes, live in neighboring apartments, and spend a lot of time together. Stephen thinks they are essentially twins, except that they don't look alike. Light-skinned Stephen has a Black dad and white mom, while Dan is white. They've always had each other's backs, but lately Stephen is bothered that Dan doesn't seem concerned by his cousin Chad's racist jabs. Chad taunts Stephen and tries to get him into trouble, and Stephen finds it hard to stand up to those aggressive tactics. He's begun noticing how people treat him differently than his white friends, even when they are all doing the same thing. And his Black friends are starting to give him a hard time about abandoning them to hang out with the white kids. His dad is schooling him on the dangers of being a Black man, lecturing him to always be careful in public, while his mom wants to shelter him from what she believes are adult concerns. Stephen wants to occupy all lanes, and resents feeling pushed to choose one over others. Through the course of this short novel, Stephen personal beliefs about tough issues of race, identity, and the complexities of friendship evolve as he transitions between childhood and adolescence. ©2020 Cooperative Children's Book Center
CCBC Age Recommendation: Ages 9-13
Age Range: Grades 3-5 (Ages 8-10) Grades 6-8 (Ages 11-13)
Format: Novel
Subjects: African Americans Bullying and Teasing Families Friendship Identity Multiracial Characters/Families Racism
Diversity subject: Black/African
Publishers: Nancy Paulsen Books, Penguin
Publish Year: 2020
Pages: 125
ISBN: 9780525518433
CCBC Location: Fiction, Maldonado
Can't find what you're looking for? Our
Recommended Book Search
includes subject access to CCBC-recommended titles based on subject headings created by our staff.