Red, White, and Boom!
---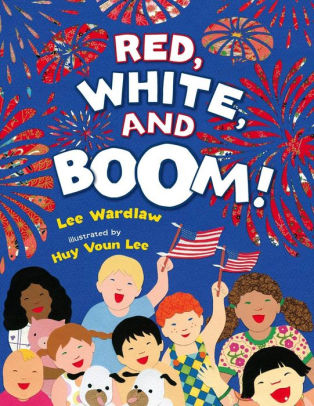 The Fourth of July is observed with a parade ("Flags unfurl / Batons twirl"), a trip to the beach ("Castle moats / Seaweed boats"), and sparklers and fireworks in the park ("Star-flakes spill / Heart–Thump thrill") in these multicultural celebrations that look like twenty-first-century America, even as participants are engaged in timeless activities. Lee Wardlaw's playful rhyming text will bring smiles, cleverly describing familiar activities, while Huoy Von Lee's collage illustrations make the summer fun look irresistible. ©2012 Cooperative Children's Book Center
Illustrated by Huy Voun Lee
CCBC Age Recommendation: Ages 2-5
Age Range: Babies/Toddlers (birth – 3) PreK-Early Elementary (Ages 4-7)
Format: Picture book
Subjects: Celebrations, Holidays, and Observances Stories in Rhyme
Diversity subject: Multicultural General
Publisher: Henry Holt
Publish Year: 2012
Pages: 32
ISBN: 9780805090659
CCBC Location: Picture Book, Wardlaw
Can't find what you're looking for? Our
Recommended Book Search
includes subject access to CCBC-recommended titles based on subject headings created by our staff.