Catch That Chicken!
---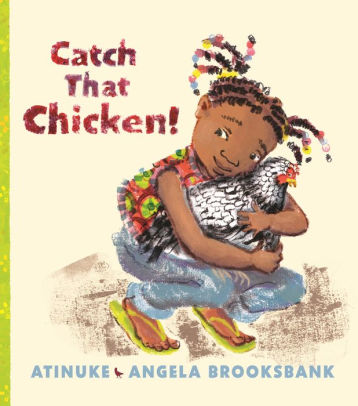 Lami, a small girl who lives with her extended family in an African compound brimming with activity, is known as an expert chicken catcher. Happily, there are many chickens all around the compound for her to chase after. She uses her speed and skill to run after one particularly wily chicken, chasing it right up a baobab tree, only to fall as she reaches for it. Even laid up with a swollen ankle, Lami is still able to catch the chicken after thinking of a way to make the chicken come to her. Colorful mixed-media illustrations are filled with small details of the busy compound as Lami and the chicken wend their way through scenes such as older children in an outdoor classroom, women cooking food and hanging laundry on the line, and big boys caring for cattle in a bullpen. Repeated phrases in the perfectly paced, patterned text, will make this a great choice for reading aloud to young children. While the story's cultural setting is not specified, author Atinuke grew up in Nigeria. Honor Book, 2021-2022 Charlotte Zolotow Award ©2021 Cooperative Children's Book Center
Illustrated by Angela Brooksbank
CCBC Age Recommendation: Ages 2-5
Age Range: Babies/Toddlers (birth – 3) PreK-Early Elementary (Ages 4-7)
Format: Picture book
Subjects: Accidents and Injuries Animals (Fiction) Nigerians and Nigerian Americans Patterned text/Repetition Perseverance Problem-Solving
Diversity subject: Black/African
Publisher: Candlewick
Publish Year: 2020
Pages: 32
ISBN: 9781536212686
CCBC Location: Picture Book, Atinuke
Can't find what you're looking for? Our
Recommended Book Search
includes subject access to CCBC-recommended titles based on subject headings created by our staff.