The Prince and the Dressmaker
---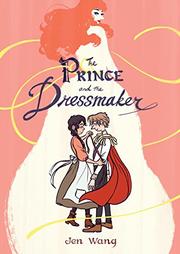 When an unconventional dress design ("Make me look like the devil's wench," says the client) costs Frances her job, it attracts the attention of a wealthy new patron in search of a personal seamstress. Whisked away to the palace, Frances discovers she's been summoned by Prince Sebastian, heir to the throne. After a brief, half-hearted attempt to conceal his identity, Sebastian confesses that it is he who would like to wear her dresses. Although sometimes comfortable as Sebastian, the prince has an alter ego: the confident and charming Lady Crystallia. Under pressure from his loving but clueless parents to find a bride, Sebastian finds respite in several clandestine outings with Frances, dancing and meeting new people—one of who happens to be Frances's idol, the famous designer Madame Aurelia, who offers Frances a spot in an upcoming fashion show. Frances jumps at the opportunity, but Sebastian is terrified it will lead to the discovery of his secret. This clearly and brightly illustrated graphic novel has a wonderfully affirming message of acceptance of gender-expansive identities.
Illustrated by Jen Wang
CCBC Age Recommendation: Age 11 and older
Age Range: Grades 6-8 (Ages 11-13) Grades 9-12 (Age 14 and older)
Format: Graphic Novel
Subjects: Art and Artists Families Fantasy LGBTQ+ Persons Transgender People
Diversity subjects: Gender Nonconformity LGBTQ Character/Topic
Publishers: First Second, Roaring Brook
Publish Year: 2018
Pages: 276
ISBN: 9781626723634
CCBC Location: Non-Fiction, 741.5 Wang
Can't find what you're looking for? Our
Recommended Book Search
includes subject access to CCBC-recommended titles based on subject headings created by our staff.