Here the Whole Time
---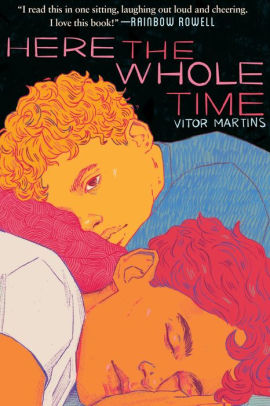 Teenage Felipe, 17, has dealt with jokes and bullying about being fat all his life. He's never been teased for being gay, thankfully, but only because no one looks beyond his physical appearance to consider him as someone sexual. When Felipe's upstairs neighbor Caio comes to stay with Felipe and his mom over winter break, Felipe is mortified. They attend different schools and haven't spent time together since they were 12, but he's had a crush on Caio for years. What will they talk about? What will Caio think of his body? And they'll be sharing a room! It turns out Felipe finds it easy to talk to Caio as they lie in their beds in the dark, but during the day he's far too worried about what to say and how he looks to converse with any ease. Felipe's mom loves and supports him unconditionally. Felipe's therapist gently challenges him. But it's Caio's college-age friend Becky, who's been a source of support for Caio since he came out at his private school the year before, who convinces Felipe that Caio likes him, too. As a narrator, Felipe is as honest and genuine as he is laugh-out-loud funny at times. His growing confidence and self-esteem are as triumphant as the romance that develops between these two sweet, lovely young men in this novel set in Brazil. ©2021 Cooperative Children's Book Center
Translated by Larissa Helena. Translated from the Brazilian Portuguese. Originally published in Brazil.
CCBC Age Recommendation: Age 13 and older
Age Range: Grades 6-8 (Ages 11-13) Grades 9-12 (Age 14 and older)
Format: Novel
Subjects: Body Image Brazilians and Brazilian Americans Friendship Gays LGBTQ+ Persons Love and Romance Mothers Self-Esteem and Self-Worth
Diversity subject: Latine LGBTQ Character/Topic
Publishers: Push, Scholastic
Publish Year: 2020
Pages: 273
ISBN: 9781338620825
CCBC Location: Fiction, Martins
Can't find what you're looking for? Our
Recommended Book Search
includes subject access to CCBC-recommended titles based on subject headings created by our staff.