To print a CCBC booklist, click on a list below and then use your browser's "Print" command. You can also select books from one or more booklists to create a custom list, which can also include books from the CCBC-Recommended Book Search.
Miss Meteor
---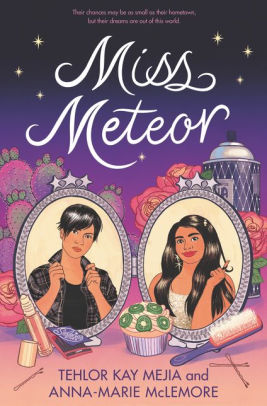 In Meteor/Metorite, Texas, the annual Miss Meteor contest is huge. Lita Perez once dreamed of winning, but the word "alien," hurled at her in middle school, shut those dreams down. Mexican American Chicky Quintanilla has never wanted to be Miss Meteor, but wants legacy Kendra Kendall, white, to know the title doesn't automatically belong to her. Kendra taunts Chicky for being a lesbian as if Chicky should be ashamed. Chicky isn't lesbian—she's pansexual. And she's not ashamed. She's just afraid to tell the truth, just as she's afraid to take her relationship with best friend Junior Cortes to a new but clearly mutually desired place. When Lita decides to run for Miss Meteor—because her body is reverting to the stuff of stars from which she came, although no one knows; because she has nothing to lose and everything to gain in trying—she asks for Chicky's help. Chicky agrees, despite not having spoken to former best friend Lita since middle school. Among those supporting Lita is Kendra's brother, Cole, who is transgender. Chicky, Lita, Cole, and Junior are the heart of a story chronicling transformational discoveries and connections. They anchor a lively cast of characters in this entertaining novel alternating between Chicky's and Lita's perspectives and exploring not only friendship, love, family and community, but also race and class, gender and sexuality, and ideas about identity and belonging. ©2021 Cooperative Children's Book Center
CCBC Age Recommendation: Age 12 and older
Age Range: Grades 6-8 (Ages 11-13) Grades 9-12 (Age 14 and older)
Format: Novel
Subjects: Class Issues Community Competitions and Contests Extraterrestrials Families Friendship Homophobia Identity Immigration and Immigrants LGBTQ+ Persons Love and Romance Pansexual People Perspective/Point of View Racism Science Fiction Transgender People
Diversity subject: Latine LGBTQ Character/Topic
Publishers: HarperCollins, HarperTeen
Publish Year: 2020
Pages: 392
ISBN: 9780062869913
CCBC Location: Fiction, Mejia
Can't find what you're looking for? Our Recommended Book Search includes subject access to CCBC-recommended titles based on subject headings created by our staff.