To print a CCBC booklist, click on a list below and then use your browser's "Print" command. You can also select books from one or more booklists to create a custom list, which can also include books from the CCBC-Recommended Book Search.
We Don't Eat Our Classmates
---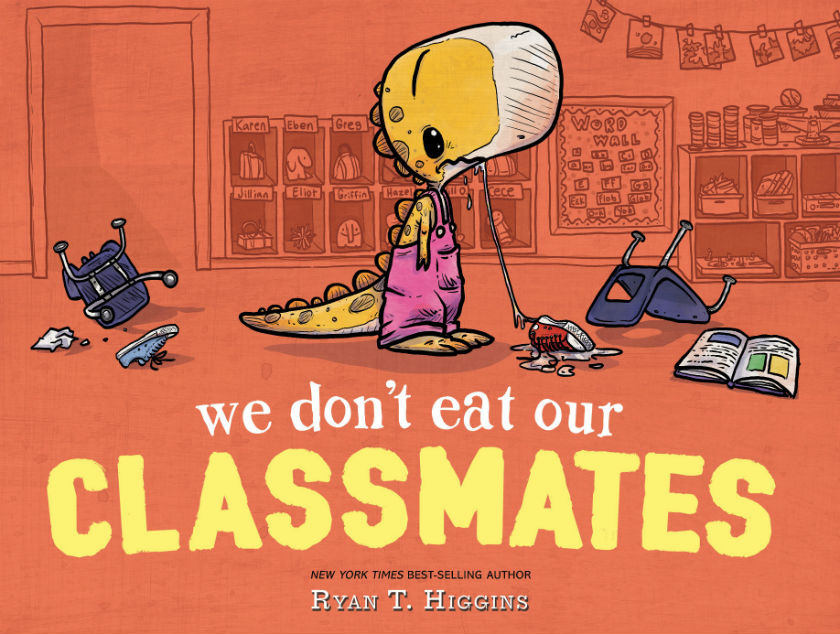 Penelope Rex is nervous about starting school, but she's prepared: She's got a new backpack with ponies on it (she loves ponies—they're delicious), and 300 tuna sandwiches packed for lunch. But the young dinosaur is not prepared when she discovers the other students are all children. "So she ate them. Because children are delicious." She spits them back up after being yelled at by her teacher, but it isn't easy to make friends after that. Everyone is afraid of her, especially as she's prone to the occasional relapse. Discouraged, she asks Walter, the class goldfish, if he'll be her friend. Walter's response gives Penelope a new perspective on how it feels to be someone's snack. There's no heavy-handed lesson in this hilarious picture book with perfect pacing, but that doesn't mean there isn't food—or at least a snack—for thought. The humor gets an even greater boost in mixed-media illustrations showing sweet-faced Penelope in her bright pink overalls alongside a diverse cast of sometimes angry, sometimes fearful, ultimately friendly human classmates. Highly Commended, 2019 Charlotte Zolotow Award ©2019 Cooperative Children's Book Center
Illustrated by Ryan T. Higgins
CCBC Age Recommendation: Ages 4-8
Age Range: PreK-Early Elementary (Ages 4-7) Grades 3-5 (Ages 8-10)
Format: Picture book
Subjects: Animals (Fiction) Dinosaurs Friendship Humor School

Publishers: Disney, Hyperion
Publish Year: 2018
Pages: 40
ISBN: 9781368003551
CCBC Location: Picture Book, Higgins
Can't find what you're looking for? Our Recommended Book Search includes subject access to CCBC-recommended titles based on subject headings created by our staff.