To print a CCBC booklist, click on a list below and then use your browser's "Print" command. You can also select books from one or more booklists to create a custom list, which can also include books from the CCBC-Recommended Book Search.
My Two Border Towns
---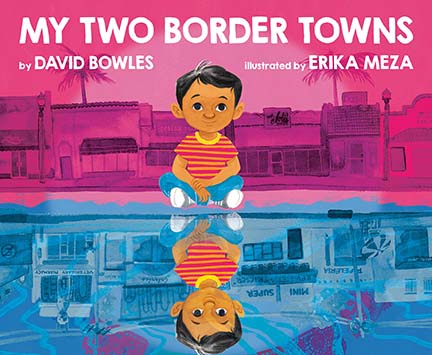 The sun is not yet up when a young boy is awakened by his dad to go on their weekly journey across the border between the United States and Mexico. On their way out of town, they pass stores with signs in Spanish, similar to what they'll see on the other side. The boy describes the journey over the bridge, through border patrol, and into Mexico, where they stop at the first town. They grab breakfast before going to visit the jewelry store owned by the boy's aunt and uncle, then head out to buy the things on the list his mom has sent with them: honey, avocados, Mexican cokes, and prescription drugs. They also buy things for some friends: t-shirts, chanclas, bottled water, and sweets. On their return trip they stop on the bridge to visit these friends, who have been waiting months between borders, trying to enter the United States. The father assures his son that one day their friends will be able to cross the border, and when they do, they'll be welcomed in the boy's town. Warm, richly detailed watercolor illustrations show the irony of creating a barrier between two towns that are essentially the same, as well as contrasting the lives of people living in the border towns with the refugees who are caught between them. ©2022 Cooperative Children's Book Center
Illustrated by Erika Meza
CCBC Age Recommendation: Ages 5-8
Age Range: PreK-Early Elementary (Ages 4-7) Grades 3-5 (Ages 8-10)
Format: Picture book
Subjects: Families Fathers Friendship Immigration and Immigrants Mexicans and Mexican Americans Travel
Diversity subject: Latine
Publishers: Penguin Random House, Kokila
Publish Year: 2021
Pages: 32
ISBN: 9780593111048
CCBC Location: Picture Book, Bowles
Can't find what you're looking for? Our Recommended Book Search includes subject access to CCBC-recommended titles based on subject headings created by our staff.