To print a CCBC booklist, click on a list below and then use your browser's "Print" command. You can also select books from one or more booklists to create a custom list, which can also include books from the CCBC-Recommended Book Search.
Milo Imagines the World
---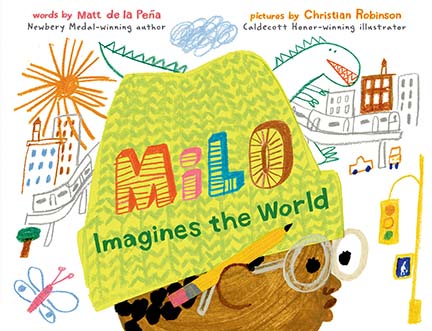 Riding the subway, Milo feels like "a shook-up soda." To distract himself from his nerves, he sketches the people near him—a whiskered man; a woman in a wedding dress; a white boy with clean, white sneakers; a group of break dancers—imagining what their lives might be like. He draws the man at home, eating alone. The bride marries a man, and they float away in a hot air balloon. The boy takes a horse-drawn carriage to his castle, where a gourmet chef offers him "crust-free sandwich squares." The breakers are followed and glared at in an electronics store. Meeting the white boy's eyes, Milo wonders what people imagine when they see his own face. Back on street level, he and his sister join a long line, and he's surprised to see the white boy in line, too. Thinking that "maybe you can't really know anyone just by looking at their face," he imagines alternate stories for the people in his sketchbook: a family for the single man, a bride for the woman in a wedding dress. Finally, he and his sister are united with their incarcerated mom, and Milo gives her a picture he's drawn of the three of them, eating ice cream on a front stoop. Cut-paper and collage illustrations alternate with two-page spreads of colorful, Crayon-drawn stories in Milo's sketchbook in this thought-provoking story about a contemplative, imaginative Black boy. ©2022 Cooperative Children's Book Center
Illustrated by Christian Robinson
CCBC Age Recommendation: Ages 6-9
Age Range: PreK-Early Elementary (Ages 4-7) Grades 3-5 (Ages 8-10)
Format: Picture book
Subjects: African Americans Art and Artists Imagination/Imaginary Play Jail and Prison Love and Romance Observation Perspective/Point of View Vehicles and Transportation
Diversity subject: Black/African
Publishers: Penguin Random House, Putnam
Publish Year: 2021
Pages: 32
ISBN: 9780399549083
CCBC Location: Picture Book, de la Pena
Can't find what you're looking for? Our Recommended Book Search includes subject access to CCBC-recommended titles based on subject headings created by our staff.