To print a CCBC booklist, click on a list below and then use your browser's "Print" command. You can also select books from one or more booklists to create a custom list, which can also include books from the CCBC-Recommended Book Search.
Messy Roots: A Graphic Memoir of a Wuhanese American
---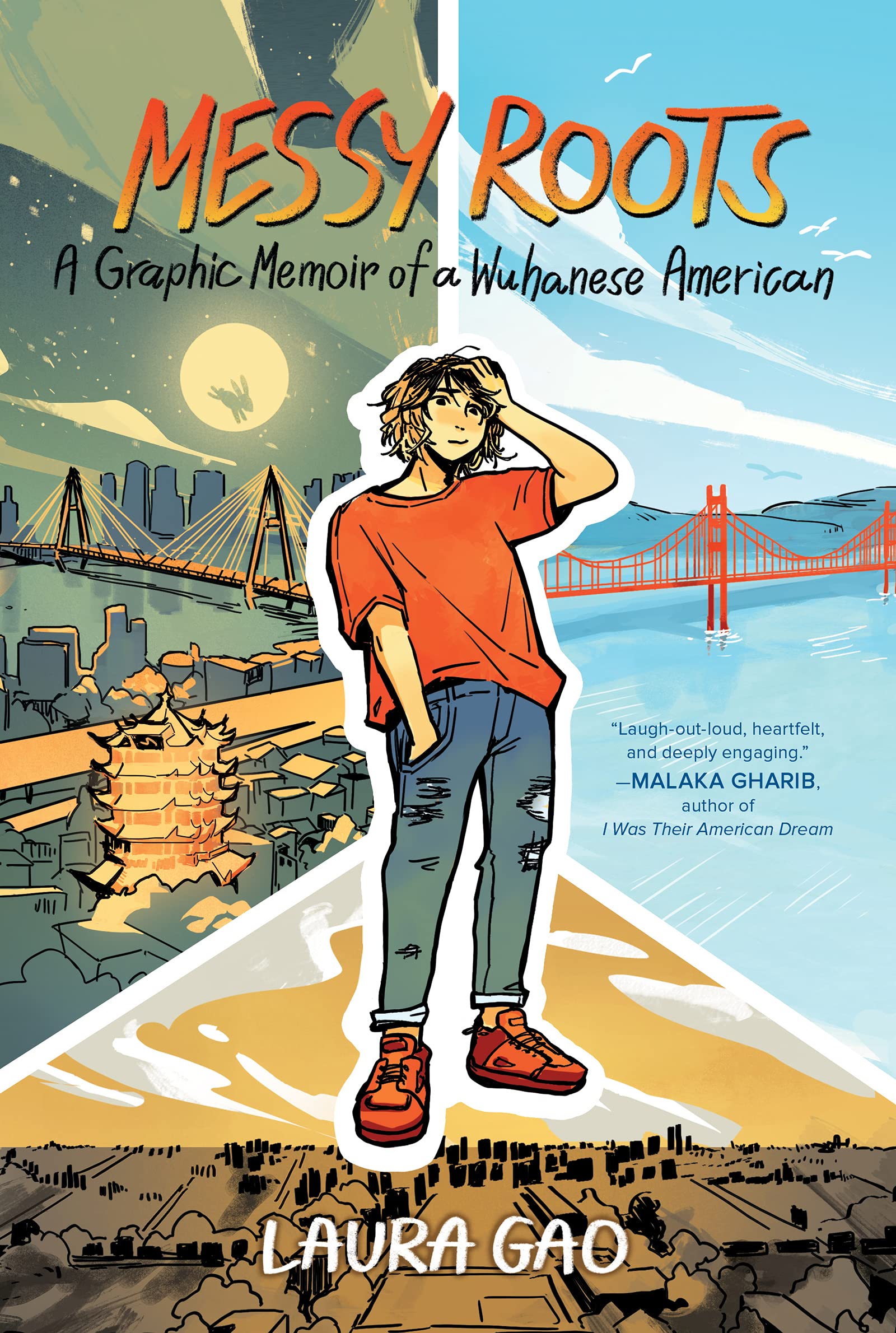 Laura Gao frames this lively and insightful look at her immigrant experience in the United States with memories of life in Wuhan when she was a young child and her experiences as a Chinese American during the pandemic. The tensions and challenges of being an immigrant impact Laura's life at home, at school, and in the larger world; as well as her reunion with family members when she finally returns to visit Wuhan when she's a young adult—will she have anything in common with her cousins anymore? (She does, including their shared love of White Rabbit candy and High School Musical.) In middle school, Laura rejects her parents' pressure to be great at math and takes up basketball; as a high schooler she finds an even deeper sense of belonging among fellow artists. In college, she struggles with the idea of coming out, especially to her family, once she realizes she's queer. Throughout her life there is particular tension between her and her dad. Immediately after college, she moves with friends to the Bay Area, but her mother's cancer diagnosis brings her home, and brings her closer to her father, too. The final chapter, "The Wuhan I Love," shows that the place she originally comes from and the family members who are still there are so important to her sense of self and sense of the world in a graphic memoir told with humor and honesty. ©2022 Cooperative Children's Book Center
Illustrated by Laura Gao
CCBC Age Recommendation: Age 13 and older
Age Range: Grades 6-8 (Ages 11-13) Grades 9-12 (Age 14 and older)
Formats: Biography, Autobiography and Memoir Graphic Novel
Subjects: 21st Century Autobiography/Memoir Chinese and Chinese Americans Families Identity Immigration and Immigrants LGBTQ+ Persons Pandemic School
Diversity subject: Asian LGBTQ Character/Topic
Publishers: Balzer + Bray, HarperAlley
Publish Year: 2022
Pages: 269
ISBN: 9780063067776
CCBC Location: Non-Fiction, 741.5 Gao
Can't find what you're looking for? Our Recommended Book Search includes subject access to CCBC-recommended titles based on subject headings created by our staff.