Ironhead, or, Once a Young Lady
---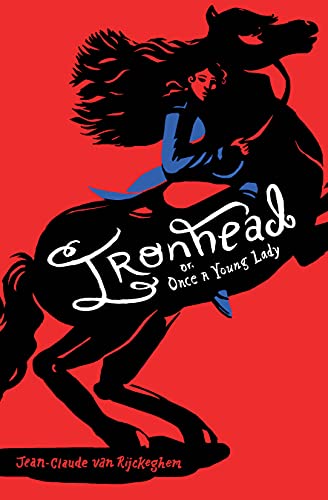 Stance, 18, lives in Ghent in 1808. She's always looking for experiences more interesting than what her fate as a woman seems to hold. Her brother Pier, 14, who wants to be a scholar, is dismayed by his older sister's boldness and defiance. Pier is even more dismayed when his father can't afford to pay his school fees. After wealthy Lieven agrees to finance their father's new cannon design in exchange for Stance's hand in marriage, Stance is resigned to her fate only so long; inspired by a young woman she saw moving through the world as a man, she eventually escapes into Napoleon's army. A story alternating between Stance's and Pier's perspectives follows Stance's life as a soldier—everyone assumes she's a man—and Pier's journey with Lieven's shady business associate, Dupin, to find her; they assume she's among the women who follow the troops. Naïve, trusting Pier is determined to find his sister to secure his future at school and determined to prove himself to his father by delivering the cannon plans to Napoleon. Fierce, secretive Stance is learning what it means to be a comrade and to love a woman. But neither knows what it means to go to war. This rousing read blends humor, pathos, high adventure, and complex character development in a richly satisfying tale about siblings and family, the bonds among soldiers and brutality of war, and a young woman determined to live life on her own terms. ©2022 Cooperative Children's Book Center
Translated by Kristen Gehrman. Translated from the Dutch. Originally published in the Netherlands.
CCBC Age Recommendation: Age 13 and older
Age Range: Grades 6-8 (Ages 11-13) Grades 9-12 (Age 14 and older)
Format: Novel
Subjects: 19th Century Action/Adventure Belgians and Belgian Americans Families Girls and Women Historical Fiction Humor LGBTQ+ Persons Sexism Siblings Soldiers/Military Transgender People Translated Books
Diversity subjects: Gender Nonconformity LGBTQ Character/Topic
Publisher: Levine Querido
Publish Year: 2022
Pages: 419
ISBN: 9781646140480
CCBC Location: Fiction, Rijckeghem
Can't find what you're looking for? Our
Recommended Book Search
includes subject access to CCBC-recommended titles based on subject headings created by our staff.