Lost Soul, Be at Peace
---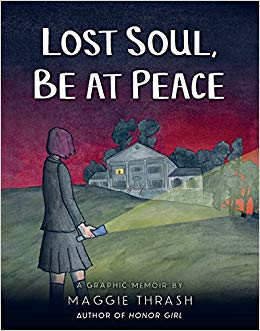 In this graphic memoir by the author of Honor Girl, Maggie is depressed and failing classes at her expensive private high school. Her coming out as a lesbian at school has been met mostly with silence. She and her parents are not close; her mom alternates between ignoring and criticizing her, and her dad, a federal judge, is an emotionally distant workaholic. Distraught over the disappearance of her beloved cat Tommi, Maggie searches for Tommi inside her family's 13-room home and instead finds the ghost of a boy named Tommy. Tommy spends time with Maggie at home and even accompanies her to her father's courtroom for a day, where she realizes just how much power her dad has over other people's lives. Later, when her father's mother dies, Maggie and Tommy (who is invisible to everyone but Maggie) accompany Maggie's father to his old, decrepit childhood home in Alabama, where a light is finally shed on his rather mysterious past…and other things. This tightly woven, artfully told memoir uses the ghost to illuminate how past experiences—and past selves—influence and contribute to individuals' growth and development.
Illustrated by Maggie Thrash
CCBC Age Recommendation: Age 13 and older
Age Range: Grades 6-8 (Ages 11-13) Grades 9-12 (Age 14 and older)
Formats: Graphic Novel Substantial Narrative Non-Fiction
Subjects: Biography Depression Lesbians LGBTQ+ Persons
Diversity subject: LGBTQ Character/Topic
Publisher: Candlewick
Publish Year: 2018
Pages: 187
ISBN: 9780763694197
CCBC Location: Non-Fiction, 741.5 Thrash
Can't find what you're looking for? Our
Recommended Book Search
includes subject access to CCBC-recommended titles based on subject headings created by our staff.