To print a CCBC booklist, click on a list below and then use your browser's "Print" command. You can also select books from one or more booklists to create a custom list, which can also include books from the CCBC-Recommended Book Search.
Dreamers
---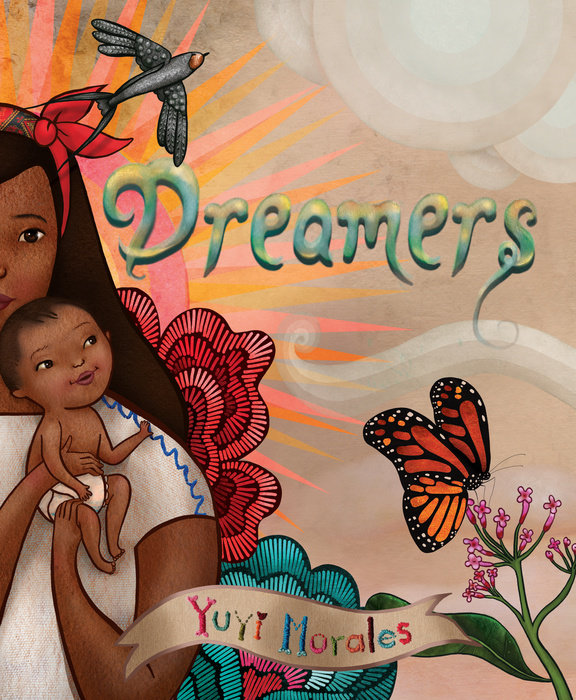 "…when we made it to the other side, thirsty, in awe, unable to go back, we became immigrants." Yuyi Morales tells the story of her journey with her young son to the United States and what happened next in a picture book that pays tribute to love, resilience, books and reading, and dreamers everywhere. The text, spare and poetic, describes a physical journey but, more important, a journey of discovery when mother and son stumble on a place that was "Suspicious. Improbable. Unbelievable. Surprising." A place that was full of stories. The books they found at the public library were home, and inspiration, and validation, affirming that their stories, their voices, their dreams, their gifts, matter. The lush, fanciful multimedia illustrations incorporate 48 children's books that Morales was inspired by during that time. End matter includes more details about Morales's immigrant journey from Mexico, as well as a bibliography of the books she incorporates into the artwork and a brief note on how she made the book. Highly Commended, 2019 Charlotte Zolotow Award ©2019 Cooperative Children's Book Center
Illustrated by Yuyi Morales
CCBC Age Recommendation: Ages 4-9
Age Range: PreK-Early Elementary (Ages 4-7) Grades 3-5 (Ages 8-10)
Formats: Biography, Autobiography and Memoir Picture book
Subjects: Art and Artists Biography Books and Reading Immigration and Immigrants Mexicans and Mexican Americans Writers and Writing
Diversity subject: Latine
Publishers: Holiday House, Neal Porter Books
Publish Year: 2018
Pages: 32
ISBN: 9780823440559
CCBC Location: Picture Book, Morales
Can't find what you're looking for? Our Recommended Book Search includes subject access to CCBC-recommended titles based on subject headings created by our staff.