To print a CCBC booklist, click on a list below and then use your browser's "Print" command. You can also select books from one or more booklists to create a custom list, which can also include books from the CCBC-Recommended Book Search.
Thank You, Omu!
---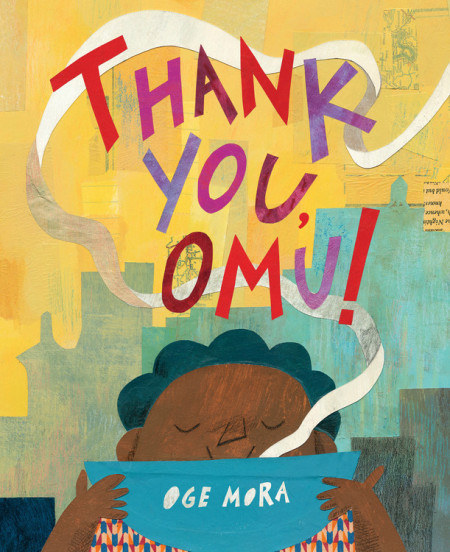 Omu is cooking "thick red stew in a big fat pot for a nice evening meal." As it simmers, the scent of the stew wafts out the window. "Knock!" A little boy is at her door, drawn by the delicious smell. "Knock! Knock!" A police officer arrives. "Knock! Knock! Knock!" This time it's the hot dog vendor, followed by many others from her neighborhood, all unable to resist the smell of her stew. Each time, Omu gives the unexpected guest some stew. But when the time for her own dinner arrives the pot is empty. Luckily there's one more big surprise in store in this debut picture book celebrating the spirit of generosity and reciprocity, appreciation and thanksgiving, inspired by the author/illustrator's Nigerian grandmother. Mixed-media collage art comprised of bold shapes is the perfect pairing for the bright, warm-hearted story. Highly Commended, 2019 Charlotte Zolotow Award ©2019 Cooperative Children's Book Center
Illustrated by Oge Mora
CCBC Age Recommendation: Ages 4-7
Age Range: PreK-Early Elementary (Ages 4-7)
Format: Picture book
Subjects: City Life Generosity Gratitude Nigerians and Nigerian Americans
Diversity subjects: Black/African Multicultural General
Publisher: Little, Brown
Publish Year: 2018
Pages: 32
ISBN: 9780316431248
CCBC Location: Picture Book, Mora
Can't find what you're looking for? Our Recommended Book Search includes subject access to CCBC-recommended titles based on subject headings created by our staff.