To print a CCBC booklist, click on a list below and then use your browser's "Print" command. You can also select books from one or more booklists to create a custom list, which can also include books from the CCBC-Recommended Book Search.
Henry the Boy
---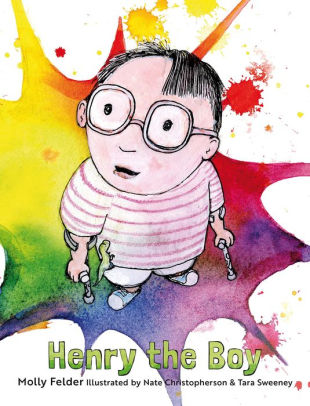 Using his sticker-covered forearm crutches to get around, Henry feels as elegant as a heron. But at school a classmate likens him to a robot, and even his friend Joel observes that Henry walks "like a chicken." Retreating to the bathroom, Henry tries to stand up straight, but he falls when his crutch slips out of his grasp. Joel helps him up, offers Henry his toy dinosaur, and plays with him at recess and after school, asking occasional questions and offering gentle encouragement. At the end of the day, Henry tells his new dinosaur a story about himself—not Henry the heron, or the chicken, or robot, but Henry the boy. Accompanied by an imaginary, protective heron, robot, and chicken, Henry, who is white, moves through his day, finding comfort in friendship and confidence in himself. His thoughts and emotions are reflected in splashes of color on the page: dark and swirling when he is taunted by a classmate, and rainbow bright when he stands up on his own after a word of encouragement from African American Joel. ©2020 Cooperative Children's Book Center
Illustrated by Nate Christopherson, Tara Sweeney
CCBC Age Recommendation: Ages 5-7
Age Range: PreK-Early Elementary (Ages 4-7) Grades 3-5 (Ages 8-10)
Format: Picture book
Subjects: Affirmation African Americans Bullying and Teasing Friendship Physical Disability
Diversity subject: Black/African Physical
Publisher: Penny Candy
Publish Year: 2019
Pages: 36
ISBN: 9780999658406
CCBC Location: Picture Book, Felder
Can't find what you're looking for? Our Recommended Book Search includes subject access to CCBC-recommended titles based on subject headings created by our staff.