You Are My Friend: The Story of Mister Rogers and His Neighborhood
---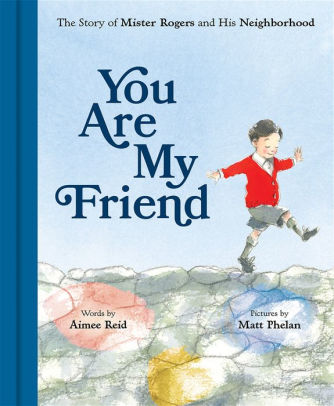 A picture book about Fred Rogers of Mister Rogers Neighborhood fame is as gentle and understated as its subject while drawing a direct line between aspects of Rogers's early life and things he became famous for. During a lonely childhood when he was often sick, and sometimes bullied, when he was sad or mad or hurt and had no way to express it, Freddie made friends with his puppets, and he found solace in music—he discovered he could make the piano sound the way he felt. His mother told him to "look for the helpers"; his Grandfather McFeely told him he was special, and that he liked Fred "just the way you are." When he was an adult, Fred started a television program for children that had puppets and music and helpers. Most of all, it had absolute respect for children, with each child watching or listening at its center: "You've made this day a special day, by just being you. There's no person in the whole world like you, and I like you just the way you are." A brief biography of Mr. Rogers, and personal author's and illustrator's notes, along with a bibliography, round out the volume.
Illustrated by Matt Phelan
CCBC Age Recommendation: Ages 6-9
Age Range: PreK-Early Elementary (Ages 4-7) Grades 3-5 (Ages 8-10)
Formats: Biography, Autobiography and Memoir Picture book
Subjects: Affirmation Biography Empathy and Compassion

Publisher: Abrams
Publish Year: 2019
Pages: 40
ISBN: 9781419736179
CCBC Location: Non-Fiction, 791 Reid
Can't find what you're looking for? Our
Recommended Book Search
includes subject access to CCBC-recommended titles based on subject headings created by our staff.