Goodbye, Friend! Hello, Friend!
---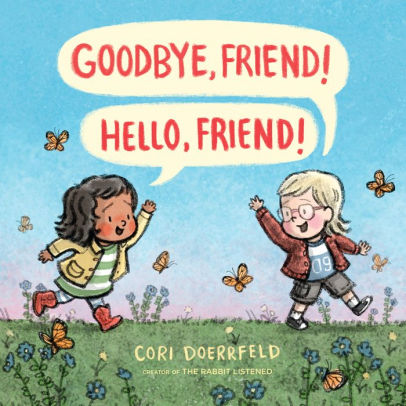 Brown-skinned Stella's teary goodbye to her mom on the first day of school is followed by a cheery hello from white-skinned, long-haired Charlie once she arrives. The two classmates are soon good friends. Their activities throughout the year are described in a series of "goodbye/hello" statements paired with comforting digital ink illustrations full of warmth. Stella and Charlie's friendship is full of fun, laughter, comfort, and encouragement to try new things ("Goodbye to almost giving up … is hello to one more try"). A story that emphasizes how every ending, even a sad one, is also a beginning is set across changing seasons and changing lives, with possibility always waiting. Highly Commended, 2020 Charlotte Zolotow Award
Illustrated by Cori Doerrfeld
CCBC Age Recommendation: Ages 3-7
Age Range: Babies/Toddlers (birth – 3) PreK-Early Elementary (Ages 4-7)
Format: Picture book
Subjects: Change Friendship Perspective/Point of View Seasons
Diversity subject: Asian
Publishers: Dial, Penguin Random House
Publish Year: 2019
Pages: 32
ISBN: 9780525554233
CCBC Location: Picture Book, Doerrfeld
Can't find what you're looking for? Our
Recommended Book Search
includes subject access to CCBC-recommended titles based on subject headings created by our staff.