To print a CCBC booklist, click on a list below and then use your browser's "Print" command. You can also select books from one or more booklists to create a custom list, which can also include books from the CCBC-Recommended Book Search.
My Fate According to the Butterfly
---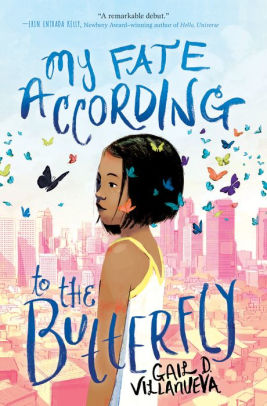 Sab wants to celebrate her 11th birthday with her family at the country resort owned by her father and his partner, Wendell, outside Manila, but things are complicated. Her aspiring journalist sister, Ate Nadine, hasn't spoken to their father in years, and Sab doesn't know why. Worse, Sab recently spotted a dreaded black butterfly, which she believes to be a portent of her own death. Determined to enjoy her last days on Earth and to have her sister at her birthday party, Filipino Sab and her white best friend, Pepper, begin to spy on Ate Nadine, hoping to uncover the reason behind the father-daughter rift. As their quest takes them to various locations in Manila, they learn more about Ate Nadine's desire to expose drug dealing on her college campus, and the often- violent methods of the government and police force to eradicate drug abuse. Sab is bright and observant; her guileless voice grounds this narrative even as she navigates complex political and personal situations. Sab learns difficult truths about her father's past, but it comes with hope as new honesty brings the promise of healing the rift in her family. ©2020 Cooperative Children's Book Center
CCBC Age Recommendation: Ages 8-12
Age Range: Grades 3-5 (Ages 8-10) Grades 6-8 (Ages 11-13)
Format: Novel
Subjects: Addiction Drugs and Alcohol Fathers Filipinos and Filipino Americans Journalism and Media Politics and Political Systems Sisters
Diversity subject: Asian LGBTQ Family
Publisher: Scholastic Press
Publish Year: 2019
ISBN: 9781338310504
CCBC Location: Fiction, Villanueva
Can't find what you're looking for? Our Recommended Book Search includes subject access to CCBC-recommended titles based on subject headings created by our staff.