To print a CCBC booklist, click on a list below and then use your browser's "Print" command. You can also select books from one or more booklists to create a custom list, which can also include books from the CCBC-Recommended Book Search.
The Mighty Mars Rovers: The Incredible Adventures of Spirit and Opportunity (Scientists in the Field)
---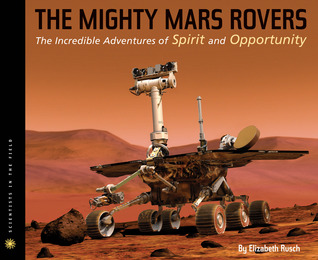 Geologist Steve Squyres knew that it wasn't possible to go to Mars himself, so he did the next best thing: He helped create two robotic geologists that could make the journey and report back. Doing so took funding from NASA and an entire team of scientists. "It was so complicated," he noted, "that not a single one of us fully understood what was going on." After a six–month journey, the two rovers, Spirit and Opportunity (named by a nine-year-old girl), landed on different parts of the red planet and began their explorations, with scientists back on earth directing their moves and troubleshooting when things went wrong. Color photographs transmitted from Mars stand side by side with photographs of the scientists back home, who are watching, worrying, wondering, and celebrating throughout the rovers' amazing explorations. The story itself is inherently dramatic, and the science is skillfully woven into the account. Readers will feel the same sense of discovery that Squyres and his team felt as the two Mars rovers opened up a whole new world to them. ©2012 Cooperative Children's Book Center
CCBC Age Recommendation: Age 10 and older
Age Range: Grades 3-5 (Ages 8-10) Grades 6-8 (Ages 11-13) Grades 9-12 (Age 14 and older)
Format: Substantial Narrative Non-Fiction
Subjects: Inventing and Inventors Science and Scientists Space/Astronomy Technology and Engineering

Publisher: Houghton Mifflin
Publish Year: 2012
Pages: 79
ISBN: 9780547478814
CCBC Location: Non-Fiction, 523 Rusch
Can't find what you're looking for? Our Recommended Book Search includes subject access to CCBC-recommended titles based on subject headings created by our staff.