What Can You Do With a Paleta?
---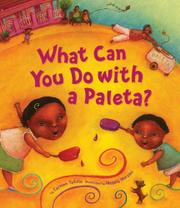 "Where the big velvet roses bloom / red and pink and fuschia, / where the accordion plays sassy and sweet… THAT's my barrio." A young Latina girl goes on to describe the tinkly arrival of the paleta wagon in her neighborhood. The ice-cold popsicle comes in a rainbow of colors and flavors that makes for tough decisions ("Strawberry? Or coconut?") and many opportunities. With a paleta you "paint your tongue purple and green" or cool off on a hot day. A paleta can be an offering of friendship or a teasing way to win a baseball game. Carmen Tafolla's delectable story appeals to the senses with its rich imagery and crisp language. Sun-warmed, richly colored illustrations by Magaly Morales further bring the little girl's vibrant Latino community to life. Winner, 2010 Charlotte Zolotow Award. ©2009 Cooperative Children's Book Center
Illustrated by Magaly Morales
CCBC Age Recommendation: Ages 3-6
Age Range: Babies/Toddlers (birth – 3) PreK-Early Elementary (Ages 4-7)
Format: Picture book
Subjects: Community Food and Cooking Grandmothers Mexicans and Mexican Americans
Diversity subject: Latinx
Publisher: Tricycle
Publish Year: 2009
Pages: 32
ISBN: 9781582462219
CCBC Location: Picture Book, Tafolla
Can't find what you're looking for? Our
Recommended Book Search
includes subject access to CCBC-recommended titles based on subject headings created by our staff.