Sparky!
---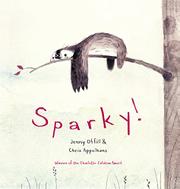 A clever twist on the "I Want a Pet" story starts with a girl's heavy lobbying for an animal companion, followed by a compromise from her mother: "You can have any pet you want as long as it doesn't need to be walked or bathed or fed." A little research in the school library comes up with a match. "My sloth arrived by Express Mail." The girl optimistically names him Sparky. "It was two days before I saw him awake." In an effort to prove to an overachieving friend that Sparky is amazing, the girl holds a Trained Sloth Extravaganza. It is, unsurprisingly, a disappointment. Regardless, the girl still appreciates Sparky: "I reached over and tagged him on the claw. 'You're it, Sparky,' I said. And for a long, long time, he was." An outrageous premise is given superb, quiet, understated treatment in Jenny Offill's delightful picture book, from the minimalist language and superb packing to the muted tone of the illustrations. Winner, 2014 Charlotte Zolotow Award ©2015 Cooperative Children's Book Center
Illustrated by Chris Appelhans
CCBC Age Recommendation: Ages 4-8
Age Range: PreK-Early Elementary (Ages 4-7) Grades 3-5 (Ages 8-10)
Format: Picture book
Subjects: Animals (Fiction) Humor Pets

Publisher: Schwartz & Wade
Publish Year: 2014
Pages: 32
ISBN: 9780375870231
CCBC Location: Picture Book, Offill
Can't find what you're looking for? Our
Recommended Book Search
includes subject access to CCBC-recommended titles based on subject headings created by our staff.