When Sophie Gets Angry -- Really, Really Angry...
---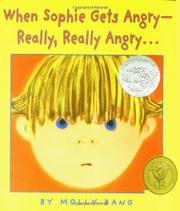 When her sister snatches a stuffed gorilla out of Sophie's hands, announcing that it's her turn to play with it, young Sophie gets so angry that she kicks and screams, roars a "red, red roar," and feels like a volcano, ready to explode. Rather than striking out, however, Sophie dispels her anger by running outside into her backyard and climbing a tree where "the wide world comforts her." Bang's obvious respect for the intensity of a young child's emotions comes through in an understated narrative that follows the perfect arc of a tantrum. Little Sophie's "red, red roar" is followed by some time alone which allows her to put the pieces of her world back together again. A spare, subtly rhyming text varies syntactical patterns to reflect Sophie's changing mood, offering a quiet contrast to the loud, exaggerated visual depiction of Sophie's anger and eventual denouement. Winner, 2000 Charlotte Zolotow Award ©2000 Cooperative Children's Book Center
Illustrated by Molly Bang
CCBC Age Recommendation: Ages 2-7
Age Range: Babies/Toddlers (birth – 3) PreK-Early Elementary (Ages 4-7)
Format: Picture book
Subjects: Anger Behavior Resiliency

Publisher: Scholastic
Publish Year: 1999
Pages: 36
ISBN: 0590189794
CCBC Location: Picture Book, Bang
Can't find what you're looking for? Our
Recommended Book Search
includes subject access to CCBC-recommended titles based on subject headings created by our staff.