To print a CCBC booklist, click on a list below and then use your browser's "Print" command. You can also select books from one or more booklists to create a custom list, which can also include books from the CCBC-Recommended Book Search.
Farfallina & Marcel
---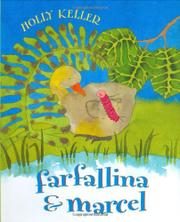 Farfallina is a caterpillar. Marcel is a gosling. When they meet, the two form an instant friendship. "Farfallina liked his soft feathers an his gentle eyes . . . He liked Farfallina's smile and her pretty colors." Kind and considerate toward one another, the two are inseparable playmates. Then one day Farfallina doesn't feel quite right. "I need to climb up onto a branch and rest for awhile." Marcel waits for her. And waits. Sadly, he finally leaves. By the time Farfallina appears again, she has greatly changed. Marcel is nowhere in sight. She looks for him every day on the pond, but only sees a beautiful goose gliding around. Holly Keller's magnificently paced story with its lyrical turns of phrase has children humming with anticipation and excitement as they realize long before Farfallina and Marcel how the two have transformed from caterpillar and gosling to butterfly and goose. Full-page watercolor artwork provides a satisfying visual accompaniment to this quiet yet highly dramatic tale. Winner, 2003 Charlotte Zolotow Award ©2003 Cooperative Children's Book Center
Illustrated by Holly Keller
CCBC Age Recommendation: Ages 3-7
Age Range: Babies/Toddlers (birth – 3) PreK-Early Elementary (Ages 4-7)
Format: Picture book
Subjects: Animals (Fiction) Change Friendship

Publishers: Greenwillow, HarperCollins
Publish Year: 2002
Pages: 32
ISBN: 006623932x
CCBC Location: Picture Book, Keller
Can't find what you're looking for? Our Recommended Book Search includes subject access to CCBC-recommended titles based on subject headings created by our staff.