Thunder Boy Jr.
---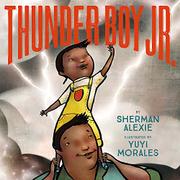 Thunder Boy Smith Jr. hates his name. Because his father is also Thunder Boy Smith, Thunder Boy Jr. is nicknamed Little Thunder, which sounds to him "like a burp or a fart." He wants his own name, one based on his talents, like learning to ride a bike when he was three (Gravity's Best Friend); or his interests, such as garage sales (Old Toys Are Awesome), or powwow dancing (Drums, Drums, and More Drums!); or his future dreams of traveling the world (Full of Wonder). "I love my dad but I want to be mostly myself." It turns out his dad understands, announcing one day that it's time for Thunder Boy Jr. to get a new name: Lightning! "My dad and I will light up the sky." A story the author has stated elsewhere is based on his own Spokane heritage is full of warmth and good-hearted humor. Lively, playful illustrations represent both Thunder Boy and the world of his imagination. Dialogue bubbles are used throughout, while Thunder Boy's little sister, Lillian, mentioned once in the text, has a key role in the visual narrative. Honor Book, 2017 Charlotte Zolotow Award ©2017 Cooperative Children's Book Center
Illustrated by Yuyi Morales
CCBC Age Recommendation: Ages 3-7
Age Range: Babies/Toddlers (birth – 3) PreK-Early Elementary (Ages 4-7)
Format: Picture book
Subjects: Families Fathers First/Native Nations Humor Identity Spokane People
Diversity subject: Indigenous
Publisher: Little, Brown
Publish Year: 2016
Pages: 40
ISBN: 9780316013727
CCBC Location: Picture Book, Alexie
Can't find what you're looking for? Our
Recommended Book Search
includes subject access to CCBC-recommended titles based on subject headings created by our staff.