To print a CCBC booklist, click on a list below and then use your browser's "Print" command. You can also select books from one or more booklists to create a custom list, which can also include books from the CCBC-Recommended Book Search.
Samantha on a Roll
---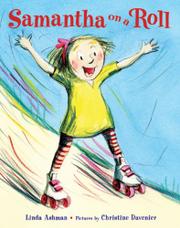 Samantha is eager to try her new roller skates, but her mother is too busy to help. "But Samantha cannot wait. Straps herself into a skate. Straps herself into the other. Tries them on despite her mother." She starts out simply rolling down the hall, which leads to the door, then the sidewalk, and then the street. Soon Sammy is at the top of Hawthorn Hill, where the amazing view distracts her from what's ahead--a very steep, very long, downhill slope. Sammy picks up speed as she descends, careening out of control and inadvertently picking up accessories from those she encounters on her way: a butterfly net, a baseball bat, a kite, and a bridal veil from a wedding in progress. After launching from a skateboard ramp, Sammy fortuitously sails through the air back toward home, arriving just in time to greet her mom, who's now available to help her out with those new skates. "Sammy sighs. 'Oh, that's okay. I'll try them on another day.'" The roller-skating rhythm of the text is complemented by watercolor illustrations humorously capturing the erosion of Sammy's confidence as her skating debut rockets out of control. Highly Commended, 2012 Charlotte Zolotow Award ©2012 Cooperative Children's Book Center
Illustrated by Christine Davenier
CCBC Age Recommendation: Ages 4-8
Age Range: PreK-Early Elementary (Ages 4-7) Grades 3-5 (Ages 8-10)
Format: Picture book
Subjects: Action/Adventure Humor Stories in Rhyme Surprise Endings

Publishers: Farrar Straus Giroux, Margaret Ferguson Books
Publish Year: 2011
Pages: 32
ISBN: 9780374363994
CCBC Location: Picture Book, Ashman
Can't find what you're looking for? Our Recommended Book Search includes subject access to CCBC-recommended titles based on subject headings created by our staff.