To print a CCBC booklist, click on a list below and then use your browser's "Print" command. You can also select books from one or more booklists to create a custom list, which can also include books from the CCBC-Recommended Book Search.
Those Shoes
---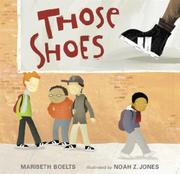 "Those Shoes" are black high-tops with two white stripes, and it seems as if everybody has them. Everybody but Jeremy, that is. When Jeremy and Grandma go shopping for the winter boots he needs, they take a look at "those shoes," but they are far too expensive. Then they find a pair at the thrift store—almost new, but too small for Jeremy's feet. He insists they fit, and when Grandma won't buy them, Jeremy uses his own money. "I squeeze them on and limp to the bus stop." .Maribeth Boelts has written an achingly realistic story about a young boy who wants something that it simply isn't possible for his family to provide. Jeremy's desire is fierce, but so, too, is his reason, as well as his compassion. Resigned after all to wearing a hand-me-down pair that are an embarrassment, Jeremy finds a way to pass on the too-small pair of "those shoes" to Antonio, a smaller classmate whose need, desire, and pride match his own. Noah Z. Jones's illustrations set the story of Jeremy, who is Black, and Antonio, who is white, in a multiracial urban neighborhood. Highly Commended, 2008 Charlotte Zolotow Award ©2007 Cooperative Children's Book Center
Illustrated by Noah Z. Jones
CCBC Age Recommendation: Ages 5-8
Age Range: PreK-Early Elementary (Ages 4-7) Grades 3-5 (Ages 8-10)
Format: Picture book
Subjects: African Americans Economic Hardship and Poverty Empathy and Compassion Generosity Wants and Needs
Diversity subject: Black/African
Publisher: Candlewick
Publish Year: 2007
Pages: 32
ISBN: 0763624993
CCBC Location: Picture Book, Boelts
Can't find what you're looking for? Our Recommended Book Search includes subject access to CCBC-recommended titles based on subject headings created by our staff.