To print a CCBC booklist, click on a list below and then use your browser's "Print" command. You can also select books from one or more booklists to create a custom list, which can also include books from the CCBC-Recommended Book Search.
Tap Tap Boom Boom
---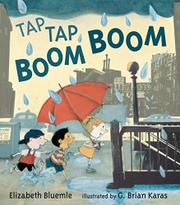 "Sky grumbles. Rain tumbles. Big weather — you'd better … get under umbrella! BOOM BOOM." A rainstorm in the big city on a summer day means the appearance of umbrellas, a mad dash for the subway, and a spontaneous, generous-spirited gathering belowground. "The storm above makes friends of strangers. We laugh under cover at thunder and danger." The visual storytelling accompanying the narrative enables readers and listeners to follow a number of individuals as the storm breaks, booms, and eventually moves away. A delight to read aloud, there is ample opportunity for enthusiastic participation with the repetitive onomatopoeia, while the finely crafted rhyming phrases create a satisfying narrative arc. "We wave good-bye. 'So long! Keep dry!'" Honor Book, 2015 Charlotte Zolotow Award ©2014 Cooperative Children's Book Center
Illustrated by G. Brian Karas
CCBC Age Recommendation: Ages 3-7
Age Range: PreK-Early Elementary (Ages 4-7)
Format: Picture book
Subjects: City Life Stories in Rhyme Weather Wordplay
Diversity subject: Multicultural General
Publisher: Candlewick
Publish Year: 2014
Pages: 32
ISBN: 9780763656966
CCBC Location: Picture Book, Bluemle
Can't find what you're looking for? Our Recommended Book Search includes subject access to CCBC-recommended titles based on subject headings created by our staff.