To print a CCBC booklist, click on a list below and then use your browser's "Print" command. You can also select books from one or more booklists to create a custom list, which can also include books from the CCBC-Recommended Book Search.
If You Were Born a Kitten
---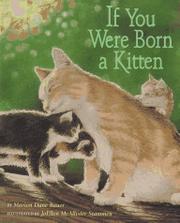 If you were born a kitten, you'd slip into the world in a silvery sac, and your mother would lick, lick, lick your face," begins this comforting, child-centered explanation of birth. Each subsequent page follows the same pattern, prodding young imaginations to think about starting out in life as a seahorse, a chick, a porcupine, a whale, an opossum, a snake, a bear cub, a deer mouse, an elephant, and a tadpole, before ending on a completely realistic note: "You rode curled beneath your mother's heart, growing and growing. You floated in a salty sea, waiting and waiting. Waiting for us, who were waiting for you. 'We're ready,' we said. And you were ready, too. So you squeezed out, wailing." The accompanying illustration, showing a human mother embracing her newborn baby, is exactly life-size. Detailed, realistic paintings fill every double-page spread to give viewers a close-up look at each newborn animal with its parent, shortly after birth, and focuses on the adult animal's response to the newborn, rather than the birth itself. The book's large size, clear illustrations and lyrical text make it perfect for reading aloud to groups of preschoolers; they will most likely be as interested in seeing and hearing about the various animals as they will be in the subject matter as a whole. Highly Commended, 1998 Charlotte Zolotow Award©1998 Cooperative Children's Book Center
Illustrated by JoEllen McAllister Stammen
CCBC Age Recommendation: Ages 2-5
Age Range: Babies/Toddlers (birth – 3) PreK-Early Elementary (Ages 4-7)
Format: Picture book
Subjects: Animals (Informational) Babies Birth

Publisher: Simon & Schuster
Publish Year: 1997
Pages: 32
ISBN: 0689801114
CCBC Location: Picture Book, Bauer
Can't find what you're looking for? Our Recommended Book Search includes subject access to CCBC-recommended titles based on subject headings created by our staff.