To print a CCBC booklist, click on a list below and then use your browser's "Print" command. You can also select books from one or more booklists to create a custom list, which can also include books from the CCBC-Recommended Book Search.
Mama's Coming Home
---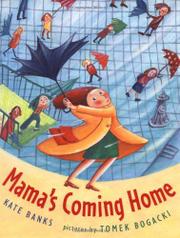 A warm, realistically frenzied account of a typical day's end for many families follows two storylines that merge. At home, a father prepares dinner, feeds the baby, and scolds the pets while the older children--two boys--set the table and pick up toys. All eagerly await Mama's return from work. Meanwhile, Mama is closing up shop and making her way home, walking to the subway, riding the train, getting caught in a rainstorm as she leaves the station. Each satisfying two-page spread follows events at home and Mama's trek through the city as she draws ever nearer. Finally, "Kisses flying. No more crying. Mama's at the door." Kate Banks's brief, lively prose features occasional rhymes and one repeated phrase that serves as an emotional touchstone for the story: "Mama's coming home." Tomek Bogacki's distinctive illustrations have a pleasing childlike quality even as each composition is intriguingly complex. Highly Commended, 2004 Charlotte Zolotow Award ©2003 Cooperative Children's Book Center
Illustrated by Tomek Bogacki
CCBC Age Recommendation: Ages 3-6
Age Range: Babies/Toddlers (birth – 3) PreK-Early Elementary (Ages 4-7)
Format: Picture book
Subjects: City Life Families Mothers Stories in Rhyme

Publishers: Farrar Straus Giroux, Frances Foster Books
Publish Year: 2003
Pages: 24
ISBN: 0374347476
CCBC Location: Picture Book, Banks
Can't find what you're looking for? Our Recommended Book Search includes subject access to CCBC-recommended titles based on subject headings created by our staff.