To print a CCBC booklist, click on a list below and then use your browser's "Print" command. You can also select books from one or more booklists to create a custom list, which can also include books from the CCBC-Recommended Book Search.
Last Stop on Market Street
---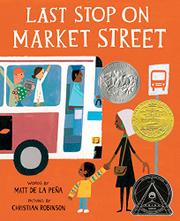 As he and his nana take the bus across town, observant young CJ is full of questions and more than a little wishful thinking: Why don't they have a car instead of having to take the bus? Why do they always have to go somewhere after church? How come that man sitting near them can't see? Why is the neighborhood where they get off the bus so dirty? In response, his nana points out everything they would miss if they weren't right where they were at each moment, from the interesting people they get to see and meet to the realization that beauty can be found everywhere. Rather than telling CJ about what community means, she's showing him that he's a part of it. After an event-filled ride, they arrive at their destination. "I'm glad we came," CJ says looking at the familiar faces in the window of the soup kitchen where they both volunteer. Wonderful descriptive writing ("The bus creaked to a stop in front of them. It sighed and sagged and the doors swung open.") full of abundant, child-centered details propels an engaging picture book set against marvelous illustrations that have a naïve quality while reflecting the energy, vibrancy and diversity of a contemporary city. Honor Book, 2016 Charlotte Zolotow Award ©2015 Cooperative Children's Book Center
Illustrated by Christian Robinson
CCBC Age Recommendation: Ages 3-8
Age Range: Babies/Toddlers (birth – 3) PreK-Early Elementary (Ages 4-7) Grades 3-5 (Ages 8-10)
Format: Picture book
Subjects: African Americans City Life Community Empathy and Compassion Grandmothers Kindness Vehicles and Transportation
Diversity subject: Black/African
Publisher: Putnam
Publish Year: 2015
Pages: 32
ISBN: 9780399257742
CCBC Location: Picture Book, de la Pena
Can't find what you're looking for? Our Recommended Book Search includes subject access to CCBC-recommended titles based on subject headings created by our staff.