To print a CCBC booklist, click on a list below and then use your browser's "Print" command. You can also select books from one or more booklists to create a custom list, which can also include books from the CCBC-Recommended Book Search.
Mama's Nightingale: A Story of Immigration and Separation
---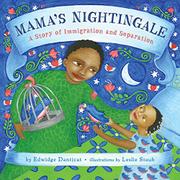 Saya's mother was in the United States for years without documentation before being arrested. She's now in a detention center. Saya and her father don't know when she will get out, or if she will get out only to be deported back to Haiti. The difficult reality of this situation is related in the heartfelt voice of young Saya, whose father always reassures her how much her mother loves her. At the same time, he is navigating a huge unknown for their family while trying to advocate for Saya's mother. Saya describes his efforts to get political intervention or media involvement in her mother's case, and a story Saya writes about missing her mom ends up helping in that effort. While the ending is rosy, the long-term outcome for Saya's mother remains unknown. Warm illustrations emphasize the love that is the driving force for Saya in a picture book told with grace and honesty. An author's note provides personal and global context for this story. Highly Commended, 2016 Charlotte Zolotow Award ©2015 Cooperative Children's Book Center
Illustrated by Leslie Staub
CCBC Age Recommendation: Ages 4-8
Age Range: PreK-Early Elementary (Ages 4-7) Grades 3-5 (Ages 8-10)
Format: Picture book
Subjects: Activism and Resistance Families Haitians and Haitian Americans Immigration and Immigrants Journalism and Media Mothers Separation
Diversity subjects: Black/African Latine
Publisher: Dial
Publish Year: 2015
Pages: 32
ISBN: 9780525428091
CCBC Location: Picture Book, Danticat
Can't find what you're looking for? Our Recommended Book Search includes subject access to CCBC-recommended titles based on subject headings created by our staff.