No Go Sleep!
---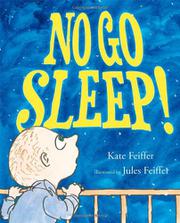 "One night when the stars were out and the moon was bright, a baby said, 'No go sleep!'" First the baby's parents try to convince the baby that it's time for bed, then the sun, moon, and stars take a turn. A car driving by weighs in ("Beep, beep, sleep, sleep"), then birds, frogs, bunnies, and other creatures of the natural world. The front door ("I'm closed until morning"), the goldfish, even the shoes and the baby's toys know it's time to say goodnight. Still the baby says, "NO!" But all that resistance proves exhausting in the end in this fresh, unsentimental picture book. With lovely writing full of unexpected moments, Kate Feiffer's wonderful words are paired with Jules Feiffer's balanced, beautifully composed illustrations that echo both the humor and comfort conveyed by the narrative. Highly Commended, 2013 Charlotte Zolotow Award ©2013 Cooperative Children's Book Center
Illustrated by Jules Feiffer
CCBC Age Recommendation: Ages 1-4
Age Range: Babies/Toddlers (birth – 3) PreK-Early Elementary (Ages 4-7)
Format: Picture book
Subjects: Animals (Fiction) Babies Bedtime

Publishers: Paula Wiseman Books, Simon & Schuster
Publish Year: 2012
Pages: 32
ISBN: 9781442416833
CCBC Location: Picture Book, Feiffer
Can't find what you're looking for? Our
Recommended Book Search
includes subject access to CCBC-recommended titles based on subject headings created by our staff.