Hello Baby!
---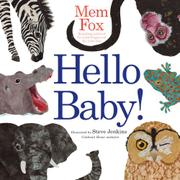 A small human hand on the first page hints at the answer to the question: "Hello, baby! Who are you?" Before the answer is finally provided, a host of animal possibilities parade through the pages. "Are you a monkey with clever toes? / Perhaps you're a porcupine, twitching its nose. / … Are you a lion with dust on its paws? / Perhaps you're a hippo with yawning jaws." After a dozen species are suggested, the closing double-page spread returns to the human baby hand as it reaches out toward an adult-sized hand. Handsome paper collage art captures the menagerie of creatures, boldly presented on white backgrounds, while the deceptively simple text makes the most of a few well-chosen words. Highly Commended, 2010 Charlotte Zolotow Award ©2010 Cooperative Children's Book Center
Illustrated by Steve Jenkins
CCBC Age Recommendation: Ages 1-3
Age Range: Babies/Toddlers (birth – 3)
Format: Picture book
Subjects: Animals (Fiction) Babies Stories in Rhyme

Publisher: Beach Lane
Publish Year: 2009
Pages: 32
ISBN: 9781416985136
CCBC Location: Picture Book, Fox
Can't find what you're looking for? Our
Recommended Book Search
includes subject access to CCBC-recommended titles based on subject headings created by our staff.