Oh No!
---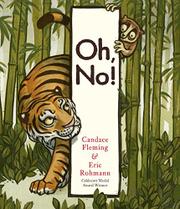 A perfect storytime read-aloud starts with Frog falling into a "deep, deep hole." ("Ribbit-oops! Ribbit-oops!") In turn, Mouse, Loris, Sun Bear, and Monkey try to help, but each ends up sharing Frog's plight. "Oh, no!" Now the hole is full of trapped animals. And who's that slinking along the branch of the tree above? It's Tiger, licking his teeth. "Oh, no!" But there's one animal still to be heard from in Candace Fleming's rollicking picture book narrative perfectly matched with Eric Rohmann's superb, stylized relief prints with their bold black outlines and expressive animal faces. The story builds great anticipation, with visual foreshadowing (a peek of Tiger's paw or tail as he climbs the tree) heightening the suspense. The playful use of repetition will have young listeners joining in from the first time they hear the story. Oh, yes! Highly Commended, 2013 Charlotte Zolotow Award ©2013 Cooperative Children's Book Center
Illustrated by Eric Rohmann
CCBC Age Recommendation: Ages 2-5
Age Range: Babies/Toddlers (birth – 3) PreK-Early Elementary (Ages 4-7)
Format: Picture book
Subjects: Animals (Fiction) Humor Patterned text/Repetition Stories in Rhyme Wordplay

Publisher: Schwartz & Wade
Publish Year: 2012
Pages: 32
ISBN: 9780375842719
CCBC Location: Picture Book, Fleming
Can't find what you're looking for? Our
Recommended Book Search
includes subject access to CCBC-recommended titles based on subject headings created by our staff.