Whose Garden Is It?
---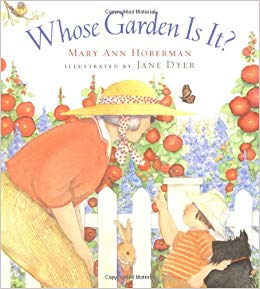 The concept of "mine" is huge for young children. Mary Ann Hoberman invites them to consider "mine" from many perspectives when a woman out for a walk with her grandchild is overjoyed by the beauty of a garden they pass and wonders out loud whose it is. First the gardener speaks up, saying it belongs to him. But then a rabbit adds his claim, followed by a bear, a bird, a worm, and many more creatures. The sun and the rain add their voices to the chorus of ownership, and a small seed is the last to assert its claim, whispering from beneath the ground. Each has a convincing (at least to itself) argument as to why the garden is theirs, and the woman walks away still wondering, "Whose garden is it?" Hoberman's rhymed, lilting text is paired with Jane Dyer's watercolor art, which could have been more restrained. Her bright, sweet images include clothing on all the animals and insects. Even the round-cheeked sun is wearing shades. But the book can be shared with or without the pictures and prompt intriguing discussion with small children. Highly Commended, 2005 Charlotte Zolotow Award ©2005 Cooperative Children's Book Center
Illustrated by Jane Dyer
CCBC Age Recommendation: Ages 2-4
Age Range: Babies/Toddlers (birth – 3) PreK-Early Elementary (Ages 4-7)
Format: Picture book
Subjects: Gardens and Gardening Sharing Stories in Rhyme

Publisher: Harcourt
Publish Year: 2004
Pages: 36
ISBN: 0152026312
CCBC Location: Picture Book, Hoberman
Can't find what you're looking for? Our
Recommended Book Search
includes subject access to CCBC-recommended titles based on subject headings created by our staff.