To print a CCBC booklist, click on a list below and then use your browser's "Print" command. You can also select books from one or more booklists to create a custom list, which can also include books from the CCBC-Recommended Book Search.
Spike, the Mixed-Up Monster
---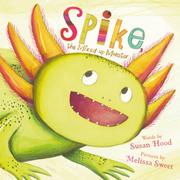 "Spike was a monster. Or so he thought." He has a "slithery tail, spiky crown, stumpy teeth." Still, Spike is completely unsuccessful at scaring anyone. In fact, the other animals, el pato, el armadillo, and el campañol, think Spike, who's "no bigger than a lily pad," is adorable. But they take off in fear the day a real monster--a Gila Monster!--shows up at the lake. Spike stands his ground, shaking his spikes, baring his teeth, and swooshing his tail. The Gila Monster isn't scared. In fact, he thinks Spike is smiling at him! Spike's disappointment turns to pleasure when he discovers he can help the Gila Monster, who's trying to find his way to his cousin's fiesta. Spanish words are incorporated throughout a narrative distinguished by terrific pacing and word choice and featuring animals indigenous to Mexico. A two-page photo essay at story's end provides more information about "Spike and His Amigos." (Spike, it turns out, is an axolotl, a type of salamander.) Playful illustrations by Melissa Sweet are a wonderful backdrop for Susan Hood's sprightly story. Highly Commended, 2013 Charlotte Zolotow Award ©2013 Cooperative Children's Book Center
Illustrated by Melissa Sweet
CCBC Age Recommendation: Ages 3-7
Age Range: Babies/Toddlers (birth – 3) PreK-Early Elementary (Ages 4-7)
Format: Picture book
Subjects: Animals (Fiction) Friendship Humor Identity Spanish Language

Publishers: Paula Wiseman Books, Simon & Schuster
Publish Year: 2012
Pages: 32
ISBN: 9781442406018
CCBC Location: Picture Book, Hood
Can't find what you're looking for? Our Recommended Book Search includes subject access to CCBC-recommended titles based on subject headings created by our staff.