To print a CCBC booklist, click on a list below and then use your browser's "Print" command. You can also select books from one or more booklists to create a custom list, which can also include books from the CCBC-Recommended Book Search.
What Do You Do With a Tail Like This?
---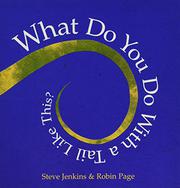 Animals use their noses, ears, tails, eyes, mouths and feet in very different ways." It is the reader's job to go through six two-page spreads to identify by eyes, ears, nose, etc., the type of animal shown. Turn the page and each animal is viewed in full, along with information on how those unique sensors are used. The usual suspects are included, including the jackrabbit with the big ears, and the monkey with the long tail, but less common animals such as the blue-footed booby and the archerfish make this book exceptionally informative. The final pages of the book serve as both index and glossary, listing the animals again by their unique sensors and providing even more information about the creatures. Highly Commended, 2004 Charlotte Zolotow Award ©2003 Cooperative Children's Book Center
Illustrated by Steve Jenkins, Robin Page
CCBC Age Recommendation: Ages 3-7
Age Range: Babies/Toddlers (birth – 3) PreK-Early Elementary (Ages 4-7)
Format: Picture book
Subjects: Animals (Informational) Senses

Publisher: Houghton Mifflin
Publish Year: 2003
Pages: 32
ISBN: 0618256288
CCBC Location: Picture Book, Jenkins
Can't find what you're looking for? Our Recommended Book Search includes subject access to CCBC-recommended titles based on subject headings created by our staff.