Don't Laugh, Joe!
---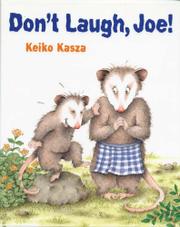 What will Mother Possum do about Joe? Although she tries and tries to teach him the most important possum survival skill--ow to play dead--Joe just can't stop giggling when she sniffs, pokes, and shakes him like a predator might do. Even the promise of some lovely bug pie won't inspire Joe to take her lessons seriously. When Joe and Mother Possum run into a grouchy bear in the forest, however, Joe demonstrates that he has indeed been paying attention to his mother all along. He knows exactly what to do when real danger approaches. Keiko Kasza's perfectly paced text ends with an amusing childlike twist that will both please and surprise young listeners. Honor Book, 1998 Charlotte Zolotow Award ©1998 Cooperative Children's Book Center
Illustrated by Keiko Kasza
CCBC Age Recommendation: Ages 3-7
Age Range: Babies/Toddlers (birth – 3) PreK-Early Elementary (Ages 4-7)
Format: Picture book
Subjects: Animals (Fiction) Humor Surprise Endings

Publisher: Putnam
Publish Year: 1997
Pages: 32
ISBN: 039923036X
CCBC Location: Picture Book, Kasza
Can't find what you're looking for? Our
Recommended Book Search
includes subject access to CCBC-recommended titles based on subject headings created by our staff.