I Stink!
---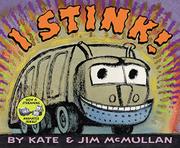 "Who am I? I've got lights. Ten w-I-d-e tires. no A.C., not me...Know what I do at night while you're asleep? Eat your TRASH, that's what." So begins a fast moving text about a cheerful personified garbage truck hard at work. Children will almost be able to hear the scrunch and crunch of the A-B-Cs of refuse enumerated by this rackety raconteur who says, "Ah!" while gobbling "Apple cores Banana peels Candy wrappers Dirty diapers (yes, dirty diapers) Eggshells Fish heads Gobs and gobs of gum..." and much more. Yuck! A delightfully upbeat story about the very vehicle needed to get a sticky job done. Yay! Highly Commended, 2003 Charlotte Zolotow Award ©2003 Cooperative Children's Book Center
Illustrated by Jim McMullan
CCBC Age Recommendation: Ages 2-6
Age Range: Babies/Toddlers (birth – 3) PreK-Early Elementary (Ages 4-7)
Format: Picture book
Subjects: Humor Vehicles and Transportation Wordplay

Publishers: HarperCollins, Joanna Cotler Books
Publish Year: 2002
Pages: 32
ISBN: 060298480
CCBC Location: Picture Book, McMullan
Can't find what you're looking for? Our
Recommended Book Search
includes subject access to CCBC-recommended titles based on subject headings created by our staff.