To print a CCBC booklist, click on a list below and then use your browser's "Print" command. You can also select books from one or more booklists to create a custom list, which can also include books from the CCBC-Recommended Book Search.
Tia Isa Wants a Car
---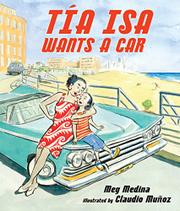 "Tía Isa wants a car." But there's no quick gratification for either Tía Isa or her niece, the young narrator of this satisfying story. Even though Tía Isa has been saving, she doesn't yet have enough money for the car she dreams of buying: "'The same shiny green as the ocean that lapped outside my bedroom window,' she says. When Tía Isa was a girl, the air on her island smelled of wet palm fronds and mud." Tía Isa keeps saving, and eventually her niece gets odd jobs in the neighborhood and starts saving, too. In the end, enough time has passed that not only does Tía Isa get her car, but the girl's parents are finally home again from their native country, where they'd been caring for her ill abuela. Wonderful descriptions and an abundance of warmth distinguish this story of family, community, love, and longing eventually fulfilled. Spanish words are woven seamlessly into the narrative and defined in context, while the illustrations extend the sense of warmth and add cultural details to the story. Highly Commended, 2012 Charlotte Zolotow Award ©2012 Cooperative Children's Book Center
Illustrated by Claudio Munoz
CCBC Age Recommendation: Ages 4-8
Age Range: PreK-Early Elementary (Ages 4-7) Grades 3-5 (Ages 8-10)
Format: Picture book
Subjects: Aunts Economic Hardship and Poverty Money and Finances Spanish Language Vehicles and Transportation
Diversity subject: Latine
Publisher: Candlewick
Publish Year: 2011
Pages: 32
ISBN: 9780763641566
CCBC Location: Picture Book, Medina
Can't find what you're looking for? Our Recommended Book Search includes subject access to CCBC-recommended titles based on subject headings created by our staff.