To print a CCBC booklist, click on a list below and then use your browser's "Print" command. You can also select books from one or more booklists to create a custom list, which can also include books from the CCBC-Recommended Book Search.
Wings
---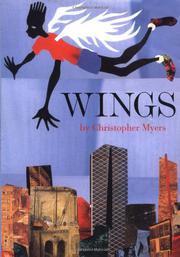 Everyone stares at the new boy who has just moved into the block. Ikarus Jackson seems to be plenty different, that's for certain. He flies above the rooftops, "swooping and diving, looping past people's windows..." At school everyone notices him, too. They joke about his "long, strong, proud wings," his unusual hair, and also his shoes. One classmate seems to understand him. Cruel kids have whispered about her, too. Their whispering has made her feel lonely, even strange. Watching what is happening to Ikarus, she summons the courage to break her own silence. The spare, poetic words of this observant, sympathetic narrator build suspense. Myers's exciting cut-paper collage art brings excitement and wonder to his fully original, dynamic, beautifully designed story loosely based upon the Greek myth about Icarus. "Wings" was primarily inspired by the youthful experiences of the writer/artist who says he was tall for his age. He stood out among his peers for that reason, and also because he preferred to draw rather than do what tall boys are supposed to enjoy. His captivating picture book is set in today's urban landscape and invites rich discussion. Honor Book, 2001 Charlotte Zolotow Award ©2000 Cooperative Children's Book Center
Illustrated by Christopher Myers
CCBC Age Recommendation: Ages 5-10
Age Range: PreK-Early Elementary (Ages 4-7) Grades 3-5 (Ages 8-10)
Format: Picture book
Subjects: Affirmation African Americans Bullying and Teasing Courage Difference/Individuality Shyness
Diversity subject: Black/African
Publisher: Scholastic Press
Publish Year: 2000
Pages: 40
ISBN: 0590033778
CCBC Location: Picture Book, Myers
Can't find what you're looking for? Our Recommended Book Search includes subject access to CCBC-recommended titles based on subject headings created by our staff.