Who Will I Be, Lord?
---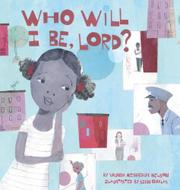 Thinking about what adults she knows do for a living, a young African American girl ponders her own future with the repeated refrain, "What will I be, Lord? What will I be?" Many types of work and many kinds of choices are treated with respect and dignity in Vaunda Micheaux Nelson's lively narrative. The girl's great-grandmother was white and worked as a housewife, her grandpa is a preacher, her grandma is a teacher, her uncle is a pool shark, her cousin is a jazzman and a dreamer (who flips burgers at Dizzy's Diner by day), her daddy is a car man, her mama is a mama. The girl talks about each individual with fondness, and the details she provides about the work they do and the lives they lead or have lead are engaging and child-centered, even as they also reflect information that she has learned from adults around her. Nelson's fine writing is paired with appealing and distinctive illustrations by Sean Qualls. Highly Commended, 2010 Charlotte Zolotow Award ©2010 Cooperative Children's Book Center
Illustrated by Sean Qualls
CCBC Age Recommendation: Ages 5-8
Age Range: PreK-Early Elementary (Ages 4-7) Grades 3-5 (Ages 8-10)
Format: Picture book
Subjects: African Americans Faith, Spirituality and Religion Families Multiracial Characters/Families Work and Labor
Diversity subject: Black/African Christian
Publisher: Random House
Publish Year: 2009
Pages: 32
ISBN: 9780375843426
CCBC Location: Picture Book, Nelson
Can't find what you're looking for? Our
Recommended Book Search
includes subject access to CCBC-recommended titles based on subject headings created by our staff.