To print a CCBC booklist, click on a list below and then use your browser's "Print" command. You can also select books from one or more booklists to create a custom list, which can also include books from the CCBC-Recommended Book Search.
School's First Day of School
---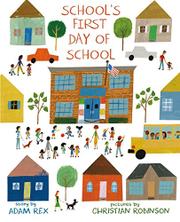 We know about children's anxiety on the first day of school but what about the school itself? Newly built Frederick Douglass Elementary is just as nervous about its first day as its students are. Before school starts, a man named Janitor mops and buffs the floors, and it's nice when it's just the two of them. But when the children start filing in—more of them than the school could have imagined—school begins to worry. It's clear not all of the kids want to be there, while others are afraid. The kids are also noisy and messy (although school gets even by squirting a boy at the water fountain). But school discovers it can learn a thing or two in kindergarten class. By the time the kids leave at the end of the first day, school is eager to have them come back. Christian Robinson's acrylic illustrations incorporate classic elements, like a flag, circle rug, and chalkboard with the alphabet above, in scenes showing a diverse, contemporary school in this perfect antidote for first-day jitters. Highly Commended, 2017 Charlotte Zolotow Award ©2017 Cooperative Children's Book Center
Illustrated by Christian Robinson
CCBC Age Recommendation: Ages 4-7
Age Range: PreK-Early Elementary (Ages 4-7)
Format: Picture book
Subjects: Anxiety Humor School
Diversity subject: Multicultural General
Publishers: Neal Porter Books, Roaring Brook
Publish Year: 2016
Pages: 32
ISBN: 9781596439641
CCBC Location: Picture Book, Rex
Can't find what you're looking for? Our Recommended Book Search includes subject access to CCBC-recommended titles based on subject headings created by our staff.