Water Can Be...
---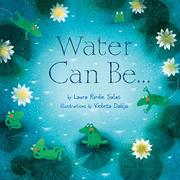 An imaginative picture book describes water in tangible terms that are intriguingly varied with each season. The rhyming narrative begins in spring, when water can be a "tadpole hatcher" (pond) or "picture catcher" (puddle with reflection). In summer water can be a "drink cooler" (ice) or "rainbow jeweler" (rain). Autumn turns water into a "salmon highway" and "eagle flyway" (both a river). And in winter, water can be "storm creator" (snow) and "decorator" (ice on windows). The rhyming couplets provide creative ways of looking at water in each season, while the illustrations ground the ideas with concrete images. Highly Commended, 2015 Charlotte Zolotow Award ©2015 Cooperative Children's Book Center
Illustrated by Violeta Dabija
CCBC Age Recommendation: Ages 4-7
Age Range: PreK-Early Elementary (Ages 4-7)
Format: Picture book
Subjects: Nature/Environment Seasons Stories in Rhyme

Publisher: Millbrook
Publish Year: 2014
Pages: 32
ISBN: 9781467705912
CCBC Location: Picture Book, Salas
Can't find what you're looking for? Our
Recommended Book Search
includes subject access to CCBC-recommended titles based on subject headings created by our staff.