To print a CCBC booklist, click on a list below and then use your browser's "Print" command. You can also select books from one or more booklists to create a custom list, which can also include books from the CCBC-Recommended Book Search.
How I Learned Geography
---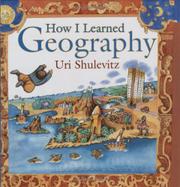 In an autobiographical story, Shulevitz describes his early childhood in Turkestan. At a time when his family was very poor and hungry, his father spent what little money they had on a map of the world instead of on food. After getting over his initial anger and disappointment, young Uri developed a fascination with the map, at first for the bright colors, and then for the details that would spur his artistic imagination, as he dreamed of far-away places he could visit vicariously. The artist's whimsical pen-and-ink and watercolor illustrations show the places in the child's imagination coming to life as he flies over continents, picturing what they would be like. An author's note at the end includes a photograph of the author at age seven, as well as two drawings he did while he was a child: a map of Africa, drawn when he was ten, and a marketplace in Turkestan, drawn when he was 13. All in all, it's a wonderful tribute to Shulevitz's father who obviously understood that sometimes it's more important to nourish the soul than the body. Honor Book, 2009 Charlotte Zolotow Award ©2008 Cooperative Children's Book Center
Illustrated by Uri Shulevitz
CCBC Age Recommendation: Ages 4-8
Age Range: PreK-Early Elementary (Ages 4-7) Grades 3-5 (Ages 8-10)
Format: Picture book
Subjects: Imagination/Imaginary Play Refugees World War II
Diversity subject: Asian Jewish
Publisher: Farrar Straus Giroux
Publish Year: 2008
Pages: 32
ISBN: 9780374334994
CCBC Location: Picture Book, Shulevitz
Can't find what you're looking for? Our Recommended Book Search includes subject access to CCBC-recommended titles based on subject headings created by our staff.